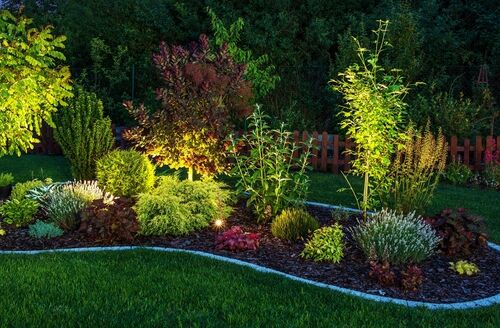 Different Types of Outdoor Lights For Your Home
Is your life goal to make your property look like something out of Better Home & Gardens magazine? Perhaps you've caught yourself staring enviously at a neighbor's well-lit landscape while driving home at night. One of the easiest ways to make your home more appealing to passerby is by installing outdoor lighting in strategic places. At Morrill Electric, we're here to delve into the details regarding what type of lighting to use outside as well as where exactly to place it around your home and property.
Different Types of Outdoor Lights
There isn't just one type of outdoor light! In fact, there are dozens — but we'll cover just the most common ones here.
Garden. Garden lights are a popular choice among homeowners who are looking to showcase their gardens or walkways. If you have a multitude of garden beds with low-lying plants and flowers as well as extensive walkway systems along your home's perimeter, then garden lights are a great choice. Garden lights are visible to the naked eye and are thus often designed with aesthetics in mind. These lights are also available in a variety of colors and materials and are elevated 18-24 inches off the ground.
Wash. Wash lights are a great way to emphasize architectural features on your home. For instance, if your chimney is visible from the front yard, a wash light can highlight this feature. Stone walls, pillars, and other protruding features benefit well from wash lights. These lights emit a soft, diffused light that will not detract from the overall look of your home's facade.
Bullet. Another popular exterior lighting choice for homeowners, bullet lights are very similar to wash lights regarding their purpose of highlighting specific features. However, where bullet lights differ is that their light is more concentrated and the beam is more narrow, making it an ideal choice for those looking to highlight trees, pillows, or other narrow features.
Well. Well lights are unique in that they are installed at ground level, which means their light is projected upwards. The bulb is enclosed within a waterproof cage and buried into the ground much like a permanent sprinkler system. This is great for homeowners who don't like having to see the lighting fixtures around their property. Well lighting works great for emphasizing trees, shrubs, and facades.
Downlight. Not as popular as the lighting systems above, the downlight is installed higher up on tree trunks and along higher points on homes. The fixture is focused downward in order to cast a moonlight glow effect at night; the beam radiates a considerable distance and casts a soft glow. Downlights are usually made of copper or brass and equipped with LEDs for long-lasting effects.
Flood. Similar to the bullet light, the flood light is probably one of the most recognizable outdoor lighting system. Flood lights cast a bright, wide beam and are most commonly used to highlight large, full trees such as evergreens or oak trees. Those with a larger facade can also benefit from a single flood light placed in the center of the facade.
Interested in improving your home's outdoor appearance? Opt for outdoor lighting installation services from Morrill Electric. Our experienced electricians can help you choose the best outdoor lights for your home as well as install the wiring necessary for each light. Contact us today for a free estimate.