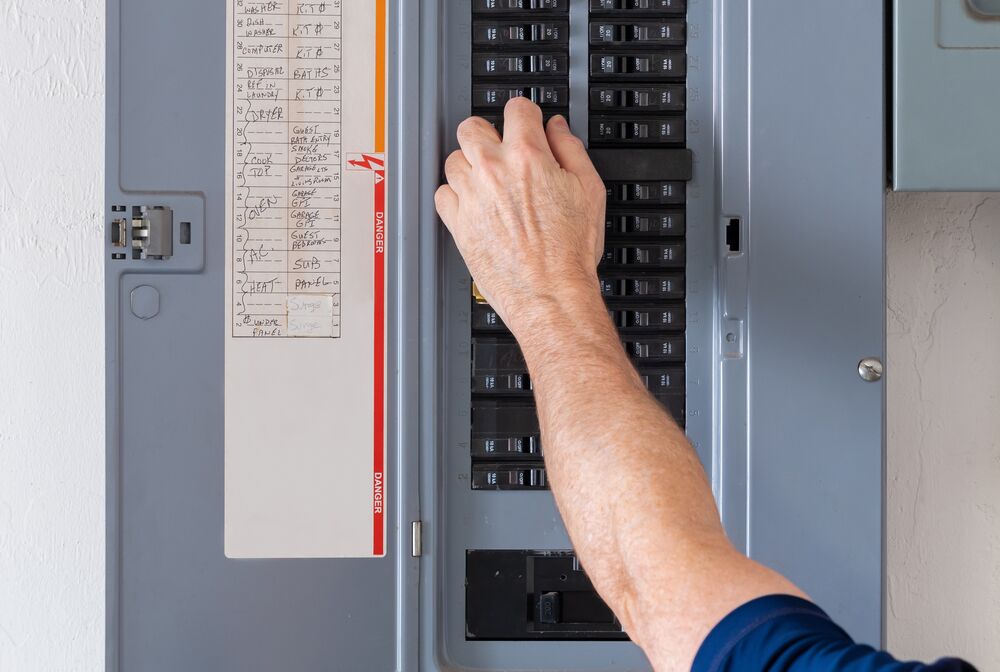 Why Does My Circuit Breaker Keep Tripping?
You are finally ready to move into your perfect dream home. The house is beautiful and vintage. Although older homes have a lot of advantages, outdated electrical work is not usually one of them. While living in your new home, you notice that the circuit breakers are tripping repeatedly. You have no knowledge of electrical systems or breaker boxes, you are forced to find out more about electrical systems and how they work.
This is a list of the top five things that will trip circuit breakers and how to stop them from happening.
Circuit Overload
Circuit overload is the most common circuit breaker in any home, especially in the kitchen. An overload of the circuit occurs when there are too many appliances running through a circuit. If you have a circuit that was designed to handle 15 amps, and you have 20 amps of appliances running through the circuit will trip. The circuit will overheat the wires and trip the circuit before damage can be done to the system, the appliance, or the person who is using it.
A Bad Breaker
Not all issues with a breaker box are due to an error by the user. There are also times when the breaker box begins to degenerate due to old age. A circuit breaker box will last much longer than the fuses and the fuse boxes will. However, they are still dealing with excessive amps, and a breaker will eventually break down and stop functioning as it should. These will need to be replaced.
If you add dedicated circuits for appliances that are used more often or use more amps, such as the microwave oven, range, and refrigerator will bring the house up to code and the circuit breakers will stop tripping.
Overheating Appliances
This is typically caused by a high heat appliance such as a toaster. In fact, toasters can be a big problem. When you place a frozen waffle into a toaster, something goes array with the wiring, and it begins to draw in more amps than a toaster should. It will often draw too many amps and it can overload the circuit and cause it to trip. It will most likely shut the toaster down before it can cause a fire, however, it may be too late to save your waffle.
The only way that you are able to resolve this problem is by purchasing a new toaster and throwing the old one in the recycle bin. Do not donate it to charity. It is not worth trying to fix it. Another appliance that often has problems is the electric blanket. After ten years, you should throw it away, even if it was not used often.
A Short Circuit
A short circuit occurs when one hot wire touches another hot wire, or most often the neutral wire. This usually happens because the wire is damaged. There are several ways that this could be caused. You could shut it in a drawer or door too many times, kinking it, being ripped out of the wall by the cord, being chewed on by vermin or the family pet, or even sucking it up into the vacuum accidentally.
This issue is more obvious to determine because if it is a short circuit sparks will appear when you plugin and try to use the appliance. This flips the breaker automatically. It will most likely leave a black spot on the outlet and a lingering burning smell in the air.
Ground Fault
A ground fault is close to the same as a short circuit. The difference is that it touches the copper ground wire in grounded appliances. This will not cause as severe sparks as the short circuit; however, it will still trip the breaker. After this happens you should replace the appliance and have the outlet inspected by an electrician.
Contact Morrill Electric in Amesbury, MA
If you have any of these issues in your home, please contact Morrill Electric to assist you. Remember, electrical issues can be hazardous and we can help diagnose and repair electrical problems in your home. Contact us today by giving us a call at 978-388-1522 or fill out a contact form.